The Ecological Crisis: Taking Responsibility and Cultivating Hope
March 25, 2017 @ 1:00 pm

-

4:30 pm

$50 - $100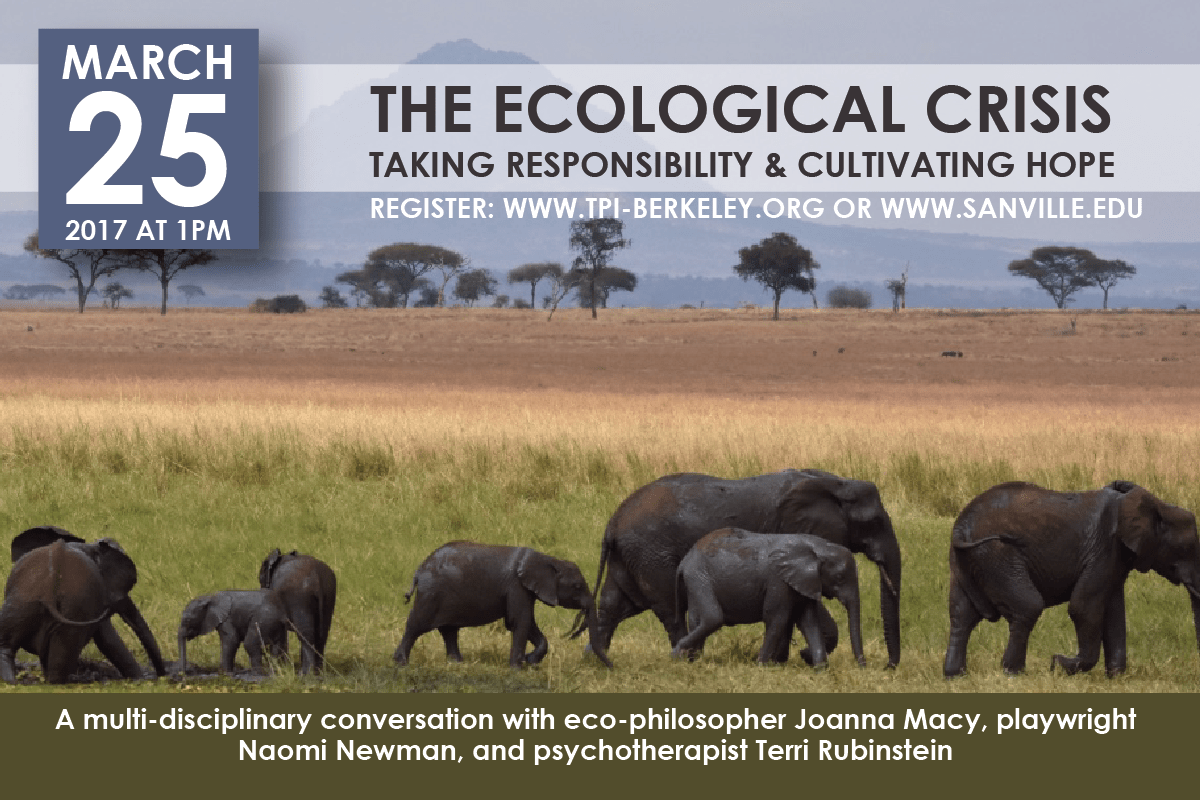 Presenters: Joanna Macy, PhD, Terri Rubinstein, MFT, Naomi Newman
Saturday, March 25, 2017, 1pm-4:30pm
In a joint venture between The Sanville Institute and TPI, this special event is a multi-disciplinary conversation about the psychological causes and effects of the ecological crisis. The day will include a dramatic reading of a screenplay written and performed by Naomi Newman, a paper presented by psychotherapist Terri Rubinstein on understanding and healing alienation from oneself, from others and from the natural world, and a talk and Q&A discussion with nationally recognized eco-philosopher Joanna Macy.
Joanna Macy, PhD, is a scholar of Buddhism, systems thinking and deep ecology. A respected voice in movements for peace, justice, and ecology, she interweaves her scholarship with learning from five decades of activism. As the root teacher of the Work That Reconnects, she has created a ground-breaking theoretical framework for personal and social change, as well as a powerful workshop methodology for its application.
Naomi Newman, is a co-founder of A Traveling Jewish Theatre, where she worked as playwright, director and actress for 34
years, winning awards in each field. Before that she sang on the concert-stage, acted in television and had a psychotherapy practice. In the late seventies and early eighties she was on the senior staff at The Center for the Healing Arts in Los Angeles, a pioneer in exploring the psychological and spiritual aspects of healing.
Terri Rubinstein, MFT, is a psychotherapist and consultant in private practice in Berkeley, CA with nearly 20 years of experience. She supervises and teaches at The Psychotherapy Institute where she is also on the faculty of the Supervision Study Program. She is currently a PhD candidate at The Sanville Institute. The focus of her dissertation involves bridging aspects of psychoanalytic theory with Buddhist philosophy and deepening the conversation about dual and nondual forms of intersubjectivity. She has published and taught on relational psychotherapy and clinical supervision.
Date & Time: Saturday, March 25, 2017, 1pm-4:30pm
(registration at 12:30pm)
Location: The Hillside Club, 2286 Cedar St, Berkeley, CA 94709
CE: 3 Credits (approved by CPA for MFTs, LCSWs, LPCCs, and psychologists; see TPI Course Policies). $5 additional fee for CE credits.
Pricing for registration is at a sliding scale between $50, $75, $100