Child Sexual Abuse and the Link to Commercial Sexual Exploitation
Free
September 17 | 10:00 am

-

12:00 pm

PDT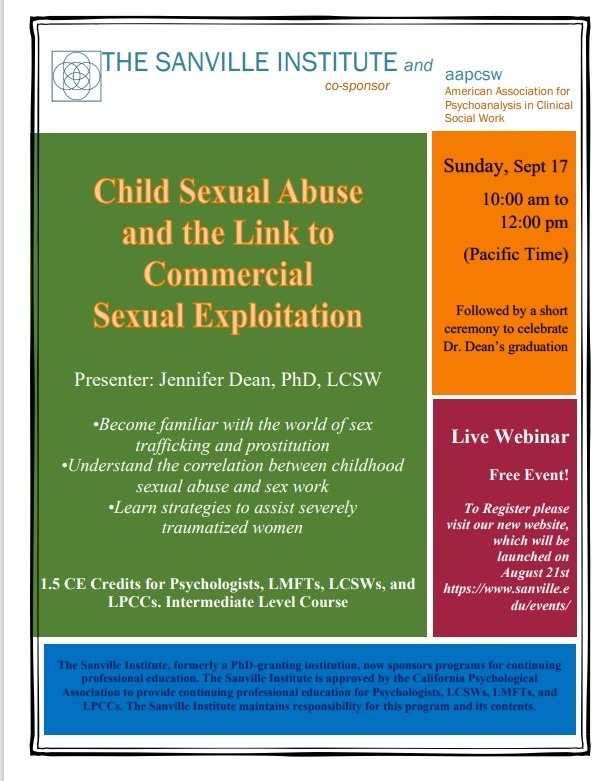 Location: Live Webinar. You will receive the Zoom link after you register.
Presenter: Jennifer Dean, PhD, LCSW
Discussant: Lynn Rosenfield, PhD, LCSW
Date: Sunday, September 17, 2023
Time: 10:00 a.m. – 12:00 p.m. (Pacific Time) Followed by a short ceremony to celebrate Dr. Dean's graduation
Course Description
This study explores the experiences of women who become involved in commercial sexual exploitation after surviving childhood sexual abuse. Relationships, trust, and attachment patterns, along with themes of personal identity and need for control are
investigated. Resilience, purpose, beliefs, and strengths are also analyzed as a path towards healing in this eye-opening look into the world of sex-trafficking and exploitation, commonly known as "The Life."
Presenter Bio
Jennifer Dean, PhD, LCSW, was a doctoral student at the Sanville Institute and eventually earned her degree from The Institute for Clinical Social Work in Chicago. Dr. Dean spent eight years working with women who had a history of commercial sexual exploitation. During this time, she conducted prostitution diversion groups, individual trauma therapy for women who had been trafficked and abused and advocated for compensation for women during their period of trafficking with the California Victim Compensation Board. She is currently in private practice in Woodland Hills, CA and focuses on individual trauma and anxiety therapy.
Course Level
This program is designed for psychologists, LMFTs, LCSWs, and LPCCs; instructional level is intermediate.
Learning Objectives
Participants will be introduced to the world of sex trafficking and prostitution and will be able to identify the risk factors that commonly lead women into this lifestyle.
Participants will be able to describe the relationship between childhood sexual abuse and sex work and explain how this early trauma can propel women toward repeated victimization.
Participants will be able to apply strategies to assist severely traumatized women, in an effort to regain a sense of safety and well-being.
Credit
1.5 Hours of Continuing Education Credit