The Challenges Facing the Unhoused Mentally Ill: Clinical Perspectives
May 13 | 10:00 am

-

1:15 pm

PDT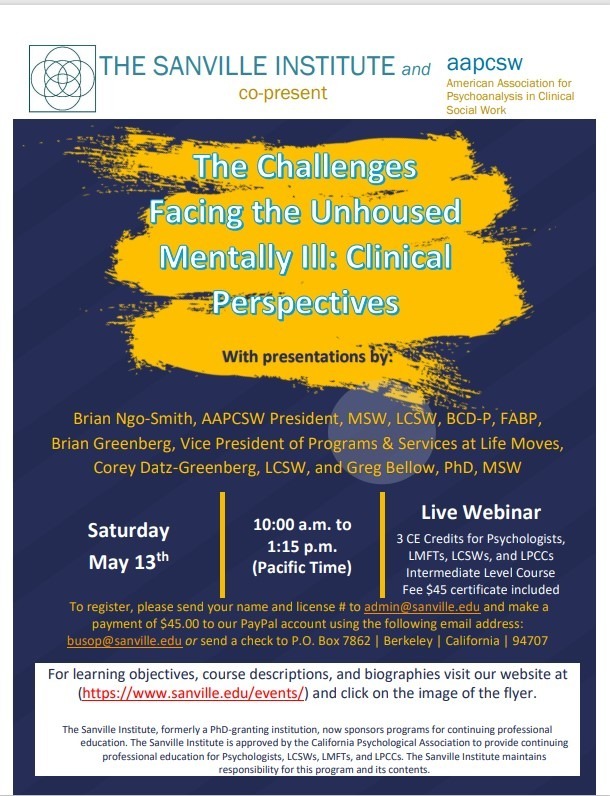 Homelessness is a problem with many causes and few solutions and many of the unhoused suffer from serious mental illnesses (SMI). The enormity of the problem, its multiple facets, and the obstacles faced by clients and workers is devastating and overwhelming. Our three-part program is an introduction to these issues. The first part will be an overview of a large, well-organized program designed to house and serve this population. The next part will cover two case studies where workers found themselves going beyond the customary boundaries with SMI clients and the last part of the program will be a discussion of how we might participate in working with the SMI population.
Course Level
This program is designed for psychologists, LMFTs, LCSWs, and LPCCs; instructional level is intermediate.
Learning Objectives
List five obstacles encountered in working with the SMI populations.
Identify three areas of support and/or training that might be expanded and developed.
Demonstrate how therapeutic interventions with SMI clients living on the margins can be harmful at times and beneficial at others.
Bios
Brian Ngo-Smith, MSW, LCSW, is a psychoanalyst and clinical social worker in Denver, CO. He received his MSW from the University of Iowa and has worked in the mental health field for 20 years, first in residential and hospital settings and later in community mental health before moving into private practice in 2018. Brian completed post-grad training at the Denver Institute for Psychoanalysis, where he is now on faculty, and he also teaches at the Sue Fairbanks Academy through the Steve Hicks School of Social Work at the University of Texas at Austin. Brian is the current President of the American Association for Psychoanalysis in Clinical Social Work.
Brian Greenberg, Ph.D. manages the LifeMoves programs. He is a licensed psychologist with over 25 years of experience developing and managing behavioral health and housing programs. Prior to his current position, Dr. Greenberg oversaw research and evaluation, adolescent services, and development for 18 years at Walden House. Brian also serves as a clinical consultant for drug treatment programming and has published articles in peer-reviewed journals concerning his work with substance abuse treatment research and housing. He received his undergraduate degree from Ohio State University and his master's degree and Ph.D. from the California School of Professional Psychology in Berkeley, CA.
Corey Datz-Greenberg, LCSW, is a graduate of the Smith College School of Social Work and the Access Institute for Psychological Services post graduate analytic therapy fellowship. In a previous career as an organizer, he worked in the Peace Corps in Nicaragua and as a union organizer with UNITE HERE. Corey is currently a clinical case manager with UCSF Citywide doing intensive case management helping people with severe mental illness stabilize in the community. He also has a part time private practice in Hayes Valley working with adolescents, adults, and couples. Corey is on the steering committee for the Coalition for Clinical Social Work, the social work wing of SFCP.
Gregory Bellow, PhD, MSW, is a University of Chicago graduate in psychology (1966) and social work (1968). After advanced training in child psychotherapy at Mt. Zion Hospital, he worked in various agencies and mental -health clinics at Kaiser Hospital and The County of San Mateo as well as a private psychotherapy practice until 2007. He completed his Ph.D. at The Sanville Institute for Clinical Social Work in 1981. He has served as a member of its Core Faculty from l983 until the school's closure at the end of 2018.
Certificates
3 Hours of Continuing Education Credit