Ethical Considerations: Boundary Dilemmas
April 9, 2022 | 9:00 am

-

4:30 pm

PDT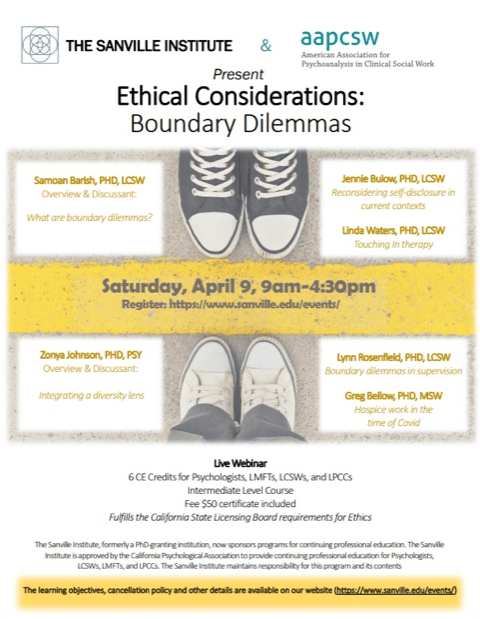 TICKETS SOLD OUT!
Overview – What are Boundary Dilemmas?
PRESENTER: SAMOAN BARISH, PHD, LCSW
Course Description:
There is a growing appreciation in contemporary psychodynamic psychotherapy of the inevitability of boundary dilemmas, given the inherently subjective, intersubjective, and interpersonal nature of the therapeutic enterprise. Thus, this course addresses some of the complexities and subtleties of boundary dilemmas as they consequently occur during the course of our clinical work.
Bio for Samoan Barish, PhD, LCSW:
Samoan Barish is currently in private practice in Santa Monica, California, on the board of the International Forum for Psychoanalytic Education (IFPE) and a member of the Sanville Institute's Continuing Education Committee.
Learning Objectives:
Describe what constitutes boundary dilemmas.
Apply your new insight of boundary dilemmas to some of your clinical work.
---
Reconsidering Self-Disclosure in Current Contexts
PRESENTER: JENNIE BULOW, PHD, LCSW
Course Description:
This course will present a brief review of the literature and concepts around self-disclosure through the lens of a relational theoretical perspective. Questions will be raised and discussed about the impact of current social and environmental experiences on issues related to self-disclosure in psychotherapy. The course will offer an opportunity for participants to reflect, recognize and discuss the impact and meanings of self-disclosure and how their relationship to disclosure has shifted over time. Examples of types of self-disclosure will be presented and discussed.
Bio for Jennie Bulow, PhD, LCSW:
Jennifer Bulow is in private practice in the Atwater neighborhood of Los Angeles, CA. She completed most of her doctoral studies at The Sanville Institute (Berkeley, CA), graduating from The Institute for Clinical Social Work (Chicago, IL) in 2019. She currently teaches Neurobiology, Affect Regulation, and Attachment Theory at Reiss Davis Graduate School.
Learning Objectives:
Participants will be able to identify the concept of self-disclosure, its ethical dimensions, and describe how it is used as a useful tool and therapeutic intervention.
Participants will be able to describe and differentiate between immediate and non-immediate disclosures.
Participants will be able to evaluate and assess the impact of external realities in their own practice with respect to their own self-disclosures.
---
Touching in Therapy
PRESENTER: LINDA WATERS, PHD, LCSW
Course Description:
Results from six semi-structured interviews with experienced female therapists found that even therapists who said they did not touch, did touch. Findings indicated that therapists' decision-making process was primarily shaped by a dynamic interplay of multilayered factors that formed their overall attitude toward touch. This interplay enhanced or constricted levels and areas of flexibility in therapists at any given time. Decisions about touching were also influenced by the emotional tenor of a session, the therapist's relationship with the particular client, and whether a distinction was made between the formal session and the leaving process. This research demonstrated the need for and the effectiveness of open, nonjudgmental dialogue about touch. It further highlighted the importance of therapists' assessing the impact of their own history & life experiences and how these impact decisions regarding the use and discussion of therapeutic touch.
Bio for Linda Waters, PhD, LCSW:
Dr. Linda Waters, PhD, LCSW, has provided clinical supervision, consultation and training to agencies and institutions throughout Los Angeles County on a variety of topics, such as child sexual abuse, working with traumatized children and adults, play therapy, integration of theory and practice, professional use of self, use of non-verbal clinical techniques, providing clinical services in-home and in-school, and integrating biological families into residential and foster care. She worked with USC as a clinical consultant, part-time lecturer, and California Social Work Education Center (CALSWEC) trainer. She directed, developed, and supervised various programs for Five Acres, a non-profit agency serving the Pasadena and San Gabriel Valley areas, including a MSW internship program. She functioned as a Clinical Consulting Faculty for The Sanville Institute from 2011-2018. Dr. Waters was honored by both UCLA and USC as a Distinguished Field Educator. Dr. Waters maintained a private practice in South Pasadena, CA, and in the Larchmont Village area of Los Angeles, CA, until her retirement in 2018.
Learning Objectives:
Assess the impact of your own history and life experiences and how these impact your decisions regarding the use and discussion of therapeutic touch.
Identify useful methods and the ethical implications for initiating discussion of clients' relationship with and need for touch.
---
Integrating a Diversity Lens
PRESENTER: ZONYA JOHNSON, PHD, PSY
Course Description:
The discussion will reflect upon boundary violations, boundary crossings and how they manifest in psychotherapy. Participants will be invited to consider the relationship between boundaries, ethics and values, their relation to their own cultural values, and how they manifest in their clinical work.
Bio for Zonya Johnson, PhD, PSY:
Dr. Zonya Johnson is in clinical private practice in the Oakland area and is a former Dean of The Sanville Institute. She has been faculty in several universities offering multicultural training for clinicians, teaching health psychology, and she offers Diversity Equity and Inclusion consultation in corporate and health care settings.
Learning Objectives:
Participants will be able to differentiate boundary violations from boundary crossings.
Participants will be able to explain when boundary crossings might be useful in the therapeutic relationship.
Participants will be able to identify boundary crossings in relation to differing cultural values and expectations.
---
Boundary Dilemmas in Supervision
PRESENTER: LYNN ROSENFIELD, PHD, LCSW
Course Description:
This workshop will address and encourage discussion about the gray area of boundary dilemmas that arises in clinical supervision for both the supervisor and the supervisee. It will explore the fine line that is often difficult to determine, in issues such as what constitutes potential harm to a client, unprofessional behavior on the part of the therapist, supervisory intrusion into a supervisee's personal life and the appropriate and inappropriate use of the supervisor's authority. The boundary between cultures in the therapist/client and supervisor/supervisee dyads will also be considered.
Bio for Lynn Rosenfield, PhD, LCSW:
Lynn Rosenfield, PhD, LCSW, has a private psychotherapy, supervision and mediation practice in Los Angeles, CA. She is a clinical instructor in several certificate programs that train beginning and advanced clinical supervisors, through Smith College School for Social Work. For 18 years, she served as a faculty/field liaison for Smith College School for Social Work, overseeing the relationship of social work interns with their supervisors. She is former faculty at the Sanville Institute and is the author of articles on cultural countertransference and web-based supervisor training.
Learning Objectives:
Define ethical supervision and the values and principles that guide decision-making and every-day professional conduct.
Navigate the teach vs. treat boundary and determine the circumstances when emotional material can be ethically processed in supervision.
Distinguish between appropriate and inappropriate use of supervisory power.
Identify ways that sticky boundary issues might be managed.
---
Hospice Work in the time of Covid
PRESENTER: GREGORY BELLOW, PHD, LCSW
Course Description:
The objectives of this presentation will be illustrated by comparing two distinctly different Hospice clients. I worked with both over the telephone – a restriction forced by Covid. Due to the nature of Hospice work, but without foresight or advanced planning, I freely revealed information to Mr. "A" about my personal experience during my wife's terminal illness some five years earlier. Practicing the reticence about revealing personal information considered essential to my work as a psychotherapist, I would never have shared such material. In hindsight, I began to consider whether these revelations, traditionally clear boundary violations, were harmful or if judicious sharing of common experience abetted his mourning process. In contrast, in my work with Mr. "B", whose presentation differed from that of Mr. "A", I revealed less but made some direct comments as our brief work arbitrarily ended in a referral for continued mental health treatment.
Bio for Gregory Bellow, PhD, LCSW:
Gregory Bellow is a University of Chicago graduate in psychology (1966) and social work (1968). After advanced training in child psychotherapy at Mt. Zion Hospital, he worked in various agencies and mental -health clinics at Kaiser Hospital and The County of San Mateo as well as a private psychotherapy practice until 2007. He completed his Ph.D. at The Sanville Institute for Clinical Social Work in 1981. He has served as a member of its Core Faculty from 1983 to the present.
Learning Objectives:
Participants will be able to differentiate between the signs present in normal, time limited, grief and those that signify ongoing clinical depression.
Participants will assess the ethical issues involved in the expanded use of self-disclosure as they support grieving processes in hospice work.
Participants will be able to refer those suffering depression to clinicians working in mental health settings.