The Impact of Using Native Versus Second-Learned Language in the Clinical Dyad
October 9, 2022 | 10:00 am

-

12:00 pm

PDT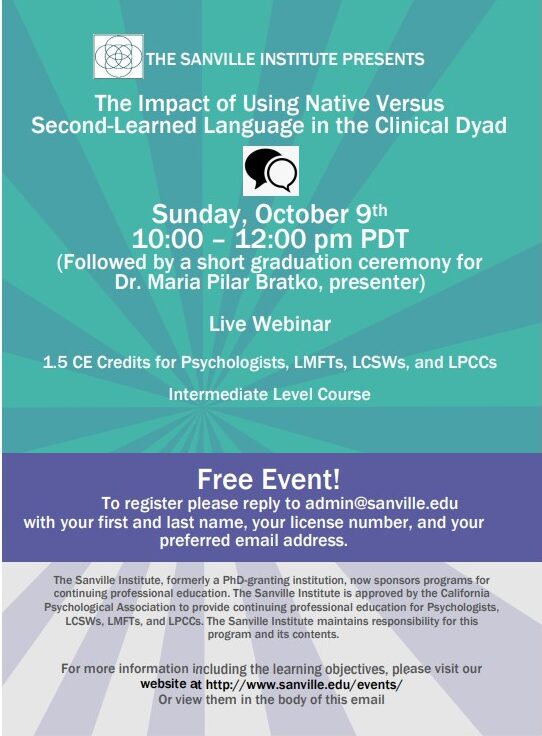 Presenter:  Maria Pilar Bratko, PhD, MFT
Discussants:  Sylvia Sussman, PhD & Whitney van Nouhuys, PhD, MFT
Date:  Sunday, October 9, 2022
Time: 10:00 a.m. – 12:00 p.m., PDT, (Followed by a short graduation ceremony for Dr. Maria Pilar Bratko, presenter)
This presentation will use the findings of a mixed methods study that explored the bilingual Latinx therapist's experience when treating patients who have a shared native language as a foundation for discussing the unique considerations of treatment when the client and/or the clinician are not native English-speakers.
Maria Pilar Bratko is a bilingual (Spanish-English) MFT working with individuals, couples, and adolescents who are predominantly immigrants, bi- and multi-racial, and bilingual. She has a private practice in Oakland, CA, with plans to expand treatment to New York City, NY. Maria holds a master's degree in feminist clinical psychology from New College and a PhD in clinical social work from Smith College. Dr. Bratko began her doctoral education in clinical social work at The Sanville Institute, where Drs. Sussman and van Nouhuys were on her dissertation committee.
This program is designed for psychologists, LMFTs, LCSWs, and LPCCs; instructional level is intermediate.
Learning Objectives:
Participants will be able to differentiate two unique aspects of transference/countertransference in treatment when the language spoken is a native language versus the second-learned language of English
Participants will identify two aspects of treatment when treating clients who are not native English-speakers.
The Sanville Institute, formerly a PhD-granting institution, now sponsors programs for continuing professional education. The Sanville Institute is approved by the California Psychological Association to provide continuing professional education for Psychologists, LCSWs, LMFTs, and LPCCs. The Sanville Institute maintains responsibility for this program and its contents.